You must have wondered once in your life that Is CBD Oil Legal in India? Cannabidiol or CBD is a product derived from the Cannabis plant. CBD's popularity has grown manifold over the last few years as various medicinal and therapeutic properties have come to be established. It is not a psychoactive compound, unlike THC or tetrahydrocannabinol, its psychoactive counterpart, also derived from the Cannabis plant. While CBD is usually derived from Hemp, Marijuana is preferred for the extraction of THC.  However, the use of CBD as a medicine is not a new phenomenon. In India, it is deeply rooted in Ayurvedic medicine. CBD has been mentioned in the Ayurvedic scriptures as 'Vijaya'. The recent years have also witnessed a surge in misinformation around CBD and its usage in India. It is believed to be illegal in India when that is certainly not the case. Although the legal framework around Cannabis and its various derivatives is vague and unspecific, CBD is definitely legal to use, sell, and possess. 
The Legal framework around CBD in India 
With the advent of various CBD-based products in the market, consumers are more confused now more than ever regarding CBD and its legality in India. 
The leaves of the Cannabis plant are used for the extraction of CBD oil as it is rich in Cannabinoids. Cannabidiol (CBD) is one of these Cannabinoids. Interestingly, CBD is not listed under any of the schedules of 1961, 1971, or 1988 United Nations International Drug Control Conventions of which India is a signatory. Pure CBD oil also does not come under pharmaceutical products as it is completely natural and does not contain any synthetic chemical components. 
In the USA, the FDA does not classify CBD products as either dietary supplements or nutraceuticals. Likewise, in India, the ICMR (Indian Council of Medical Research) and the DGCI (Drugs Controller General of India) have a very vague stance on these products. There exists a gaping void in India when it comes to a proper regulatory framework and specific guidelines as far as THC-free hemp-based products are concerned. 
According to the NDPS (Narcotic Drugs and Psychotropic Substances) Act of 1985, the seeds and leaves of the Cannabis plant are not considered to be narcotics and thus do not come under the purview of this act. Consequently, as the CBD oil is extracted from the leaves of Cannabis, it is also exempted from the NDPS Act. Moreover, the medicinal, as well as recreational use of CBD and CBD-based products is legal as long as they do not contain tetrahydrocannabinol (THC) exceeding 0.3% concentration. The 0.3% limit of THC in CBD-based products was established by a Gazette notification in October 2001. According to this, possession of THC that makes up for more than 50 grams and/or 0.3% concentration in a formulation is illegal and may attract legal action under the NDPS Act. The NDPS act has a very strict stance against THC and other intoxicating derivatives of the plant. While Bhaang is legal due to attached religious value and sentiments, variations in laws regarding the same can be seen in different states. 
It must also be noted that CBD oil is different from Cannabis oil and Hash oil as these have been classified as narcotics due to their intoxicating effect. CBD, on the contrary, does not cause intoxication in any form and is therefore not a narcotic. CBD oil is also not the same as Hemp Seed Oil, which is another popular derivative of the same plant. Hemp Seed Oil contains Cannabidiol in lower concentration and is nearly not as potent as CBD oil. It is known more for its nutritional value as it is rich in essential fatty acids and other similar compounds. As the name suggests, Hemp Seed oil is derived from the seed of the Cannabis plant, whereas CBD oil is derived from its leaves, stalks and flowers. Surprisingly, the NDPS Act is not applicable as far as the leaves and the seeds of the plant are concerned. Although both of these are legal (assuming they contain less than 0.3% THC), it must be remembered that they are very different products. 
A guide for buyers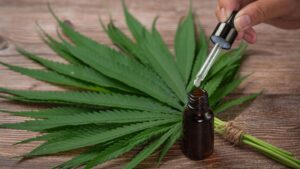 Now that it has been established that the use of CBD oil in India is legal both medicinally as well as recreationally, some factors must be taken into consideration while choosing and buying CBD oil. India has been witnessing a blooming CBD industry and the market is saturated with products – both good and substandard. CBD oil can be bought both online as well as offline and a prescription is not required for its purchase. This is an advantage as well as a disadvantage. Although the ease to buy CBD online is appreciable, the onus of choosing the right product is on the buyer. 
As a buyer, you should examine the ingredients of the oil and check the concentration of Cannabidiol in the product. You should also look for the extraction pressed as that plays a key role in determining the quality of CBD oil. Generally, critical extraction through carbon dioxide is one of the most preferable and safest extraction methods when it comes to CBD oil as it gets rid of all impurities and leaves behind pure and unadulterated CBD. You should also ensure that THC is not present in the CBD oil and if it is, it should not exceed the concentration of 0.3 per cent. Another thing to look for is the concentration of Cannabidiol as CBD oil is available in various strengths and you may need a lighter or a more concentrated version depending on your requirements. Since the regulatory framework around CBD is vague in India, it is advisable that you buy from sellers who are transparent about their products, ingredients, and the process of extraction. Additionally, if you suffer from underlying health conditions, you must consult a doctor before taking CBD oil to avoid possible complications and adverse drug interactions. 
Conclusion
CBD oil has an uncountable number of benefits. It is a therapeutic and medicinal derivative of the Cannabis plant and often gets dismissed due to the notoriety surrounding Cannabis as it is also the source of THC, a psychoactive stimulant that has been classified as an intoxicant and thus, banned in India under the NDPS Act. On the other hand, CBD is legal for medical as well as recreational purposes as long as it does not contain any banned substances or THC in a concentration exceeding 0.3%.  Not to mention that it is completely safe and does not have the same intoxicating effect as THC. It is, therefore, safe for use in any form. Although it can be bought without a prescription, one must also keep in mind that medical guidance is invaluable when it comes to any supplement which has a medicinal value attached to it. We hope you liked our informative blog about a less known fact that Is CBD Oil Legal in India.